By Frank Kuznik, 24 September 2023
In an era of insistent reinvention, it's refreshing to see an opera allowed to stand on its own. Which is to say, with the original story left intact, sans anachronistic additions, relocated sets or radical reinterpretations. Donizetti's L'elisir d'amore has been a popular staple in the repertoire ever since its 1832 premiere, and in a new showcase production at Prague's State Opera, director Julia Burbach and her team show why.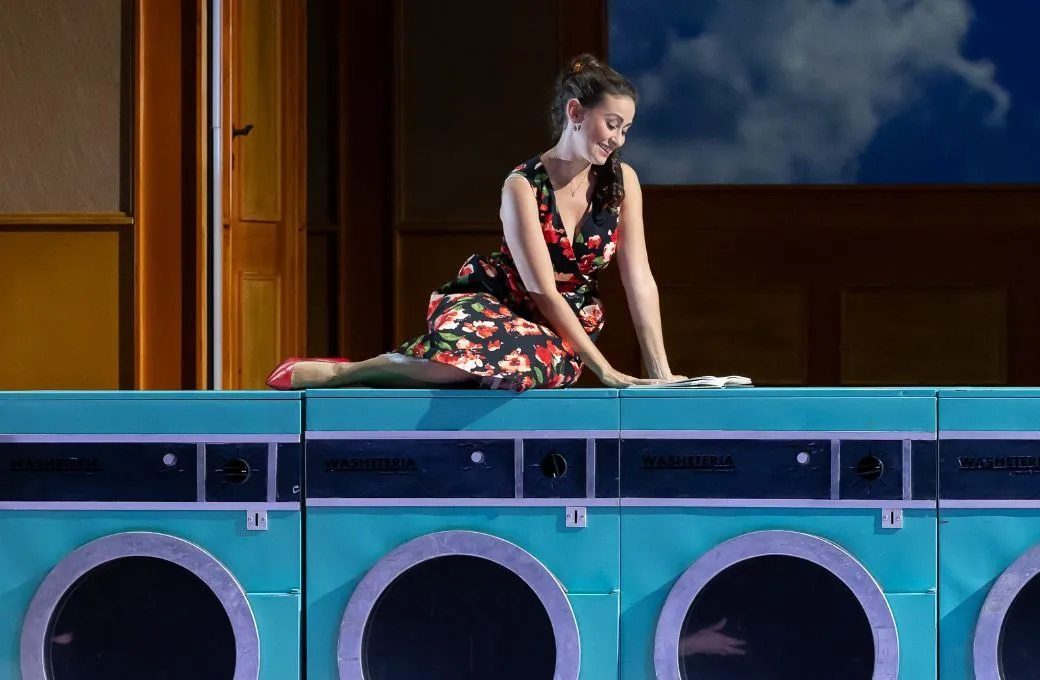 Vera Talerko (Adina)© Zdeněk Sokol, ND
A clever set by Herbert Murauer frames the piece – or more accurately, three receding frames, with the foremost creating a large hotel lobby and the smallest in the rear serving as an elevated stage for singing, dancing and dramatic entrances and exits. With a blue-skies border and overdose of splashy pastel-colored costumes and décor, the effect is a visually vibrant, hyper-real fantasyland. In this world, Barbie-doll characters, outsized emotions and flimsy plot twists are perfectly fine. Even dancers floating around the stage like giant puffballs seem oddly appropriate.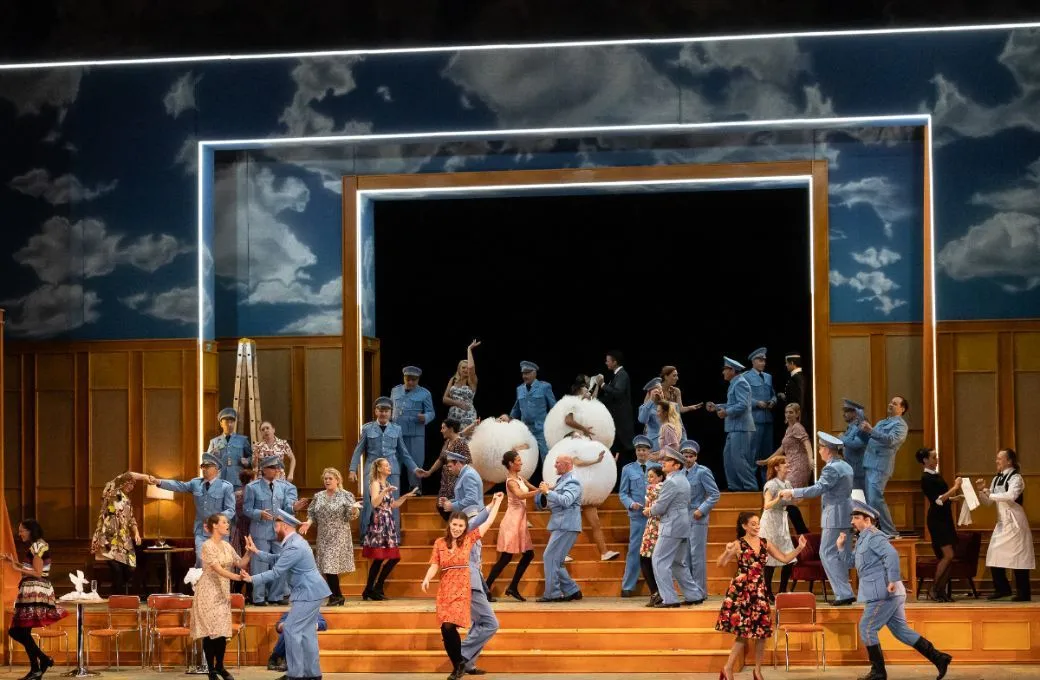 L'elisir d'amore© Zdeněk Sokol, ND
Vera Talerko's Adina first appears as Queen of the Maytags, perched atop a line of washing machines, while Petr Nekoranec's Nemorino is a stagehand, hauling around a stepladder, too smitten to work. Adina sets up shop at the concierge desk, maintaining the hotel manager conceit while fending off the arrogant advances of Pavol Kubáň's Sergeant Belcore and explaining to Nemorino why she's just not the gal for him. The appearance of Vincenzo Taormina's Dulcamara peddling his phony cures changes the romantic equation and revs up a series of rousing choral set pieces that are the backbone of the production.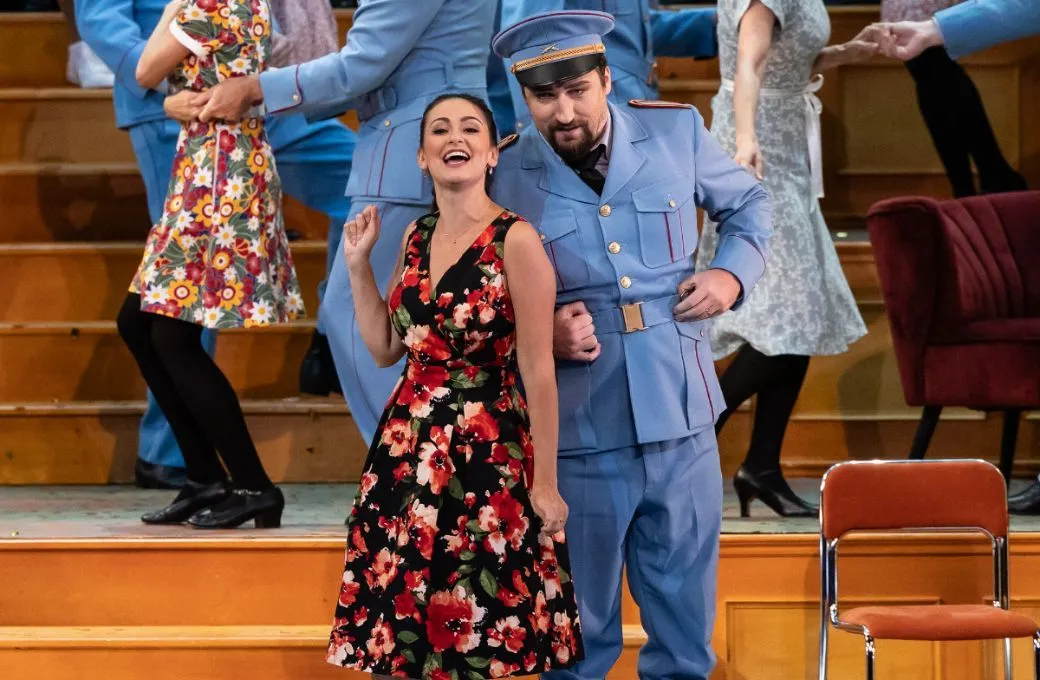 Vera Talerko (Adina), Pavol Kubáň (Belcore) and the Prague State Opera Chorus© Zdeněk Sokol, ND
Burbach does marvelous work with large numbers of people onstage. Every single person is busy interacting with someone else, giving chorus members a reason to be there and generating a bustling, exuberant atmosphere. Lots of directors like to move big groups around, but few do it with the fluency that characterizes this production. Sharp, enthusiastic singing by the State Opera Chorus accentuated the pleas and posturing of the main characters, and kept the action moving at a brisk clip.
The main cast in the premiere was uniformly strong. Talerko has an engagingly rich, full voice that glides effortlessly up and down coloratura runs, with just a hint of steel when she needs to put men in their place. Nekoranec's deep, warm tenor was a surprisingly good fit for lighter material, though reducing his character to a total buffoon – almost a village idiot – undercut his romantic appeal. Kubáň brought just the right swagger and a commanding voice to Belcore, and Taormina was note-perfect as a lovable scoundrel, strutting around the stage with a persuasive sales pitch delivered in warm, enticing tones. As Adina's sidekick Gianetta, Magdaléna Hebousse brought luster to a small supporting role.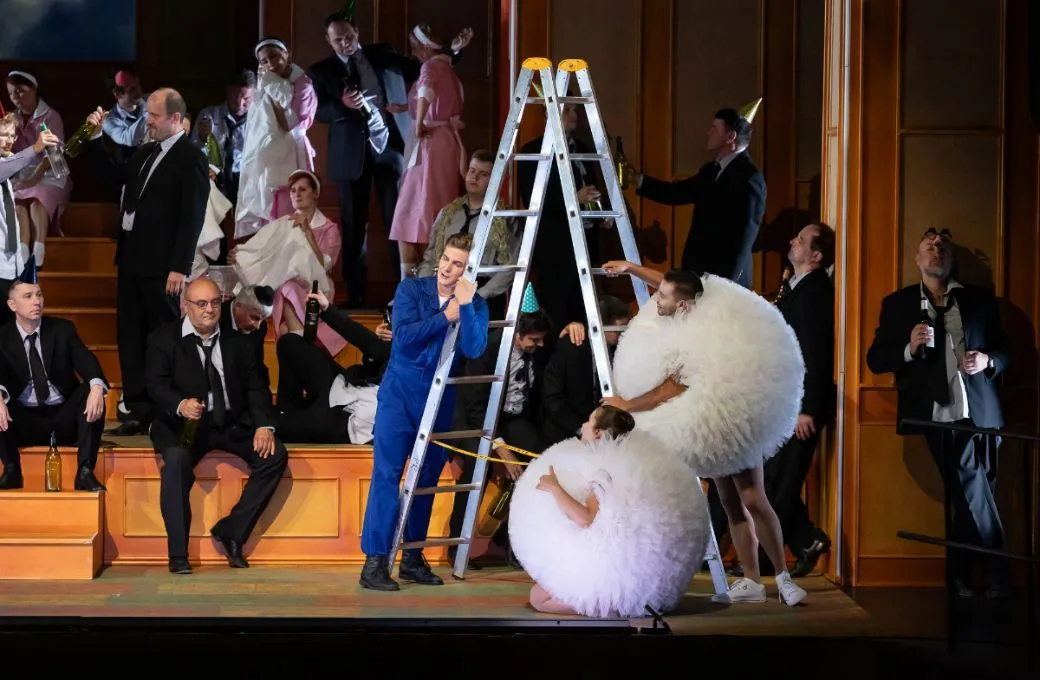 Petr Nekoranec (Nemorino) and the Prague State Opera Chorus© Zdeněk Sokol, ND
The production has its share of misfires. The washing machines are great for surprises like sexy legs in bright red high heels suddenly popping out of them, but a poor backdrop for the key romantic scene between Adina and Nemorino. Nekoranec spends much of the evening clumsily hauling his stepladder around the stage, and looking miserable doing it. Why the singers occasionally have to ascend the ladder to sing their arias is also puzzling. And it's hard to remember a production that ended with the entire cast singing with their backs to the audience.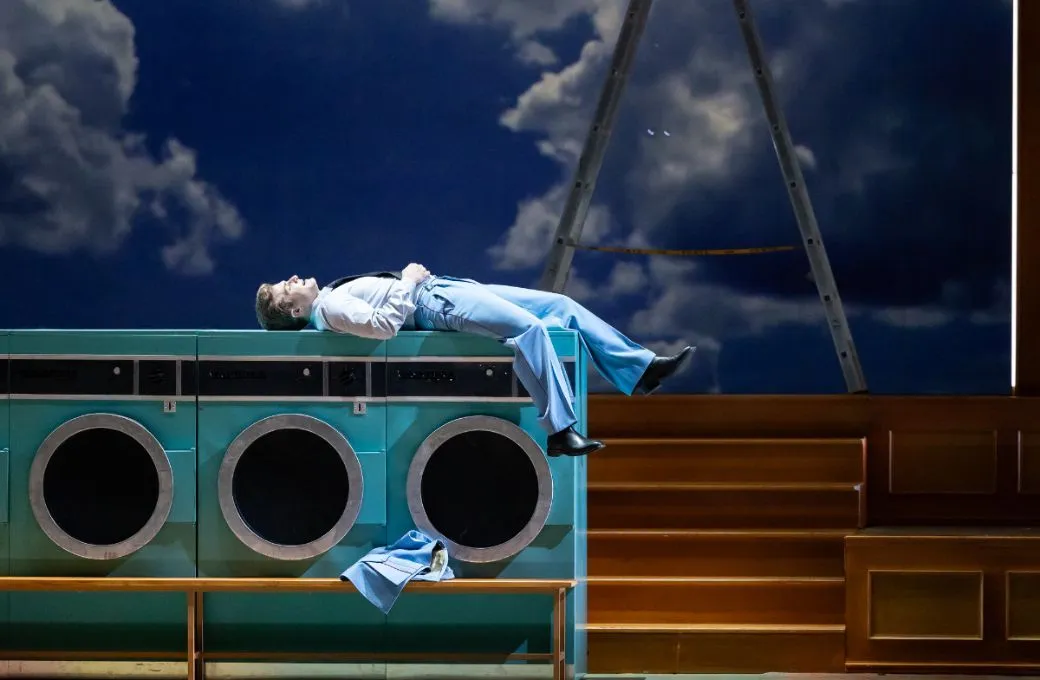 Petr Nekoranec (Nemorino)© Zdeněk Sokol, ND
Ultimately, what held everything together was a very strong performance in the pit led by State Opera Music Director Andriy Yurkevych. The music was spot-on for opera buffa, fast-paced and high-spirited with a palpable sense of being in on the fun. Smart support for the singers, especially in their pauses and reactions, reinforced the comic timing. Colorful work in the woodwinds matched the vivid hues onstage. And using a piano rather than the traditional harpsichord for the recitatives and accents added a fresh touch of sonority to the sound.
If there is a moral in all the merry mayhem, it's this: trust the material. Dress it up in bright colors, take it out for a whirlwind ride, but stay true to the story. This opera has charmed audiences for nearly 200 years, and if the number of people on their feet at the conclusion of the performance in Prague was an accurate indication, it did it again.
Bachtrack